Puerto Vallarta has turned into our
"high end, upscale trip."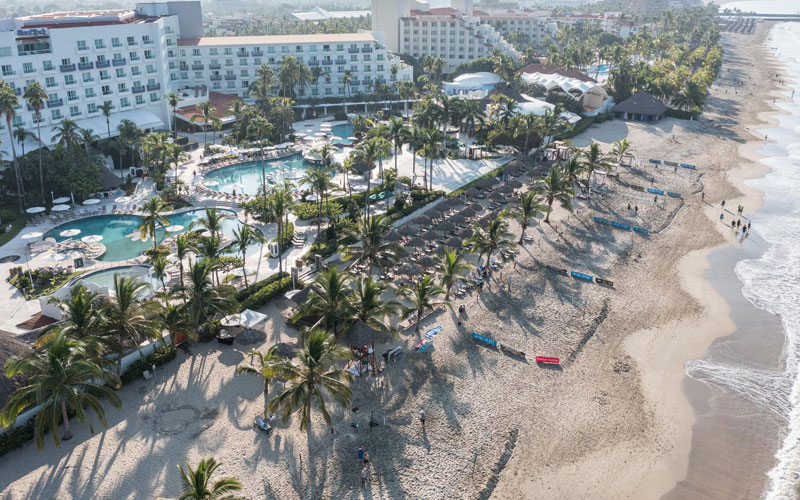 We stay at the amazing Hard Rock Hotel Vallarta in Nuevo Vallarta, a property that is so nice we rarely leave. The Puerto Vallarta beach is perfect for 12 nets, our 96 guests and the hotel has it all: five great restaurants, impeccable service, a spa, free internet (wireless too), flat screens and double Jacuzzis in every room, 24 hour room service...the works. The Cabo Corriente Mountains tend to help block the prevailing winds and we literally play all day, every day, on this trip in perfect 80 degree temperatures. With hurricane season in full swing on the east coast, Puerto Vallarta is the perfect fall Volleyball Vacation.
Links
Hard Rock Hotel Vallarta Website
Hard Rock (Google Map)
---
With breathtaking beaches & ocean views,
Ixtapa has the energy & excitement of a world-class resort.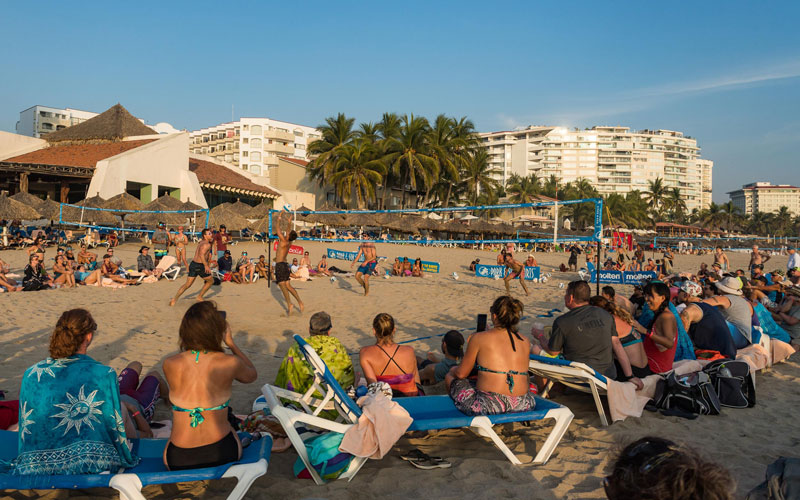 Ixtapa, located 100 miles north of Acapulco on the Mexican Riviera offers 11 world class hotels, bordering on one of Mexico's premier volleyball beaches. Ixtapa is 5,623 acres of pure paradise that began about 40 years ago and is still slowly growing with most of its sprawling coast still undeveloped. Hotels, restaurants, discos, a shopping center, marina and two golf courses offer everything necessary for a sensational, tropical vacation, yet a secluded beach with private palm trees is just around the corner.
All the modern comforts and more are there to enjoy, yet it has the feel of an unspoiled place and the pace is as relaxing or crazy as you want it to be. Zihuatanejo, an old fishing village near Ixtapa acts as an enchanting counterpoint to Ixtapa. Mini stores, boutiques and restaurants linked by cobblestone streets invite leisurely shopping and strolling. The atmosphere is cozy, friendly and informal. This is the one of the few places in Mexico where you can get to know everybody in town in an evening.
Links
Park Royal Hotel & Resort
Mama Normas Restaurant
Chili Bean's Restaurant
Aerial View, Park Royal Hotel
Aerial View, Zihuatanejo
Aerial View, La Perla
Surfing with Catch L' Ola
Sailboat Cruises on the Picante
Los Ninos Children's Foundation
---
Cabo San Lucas
Our Newest
Volleyball Vacation!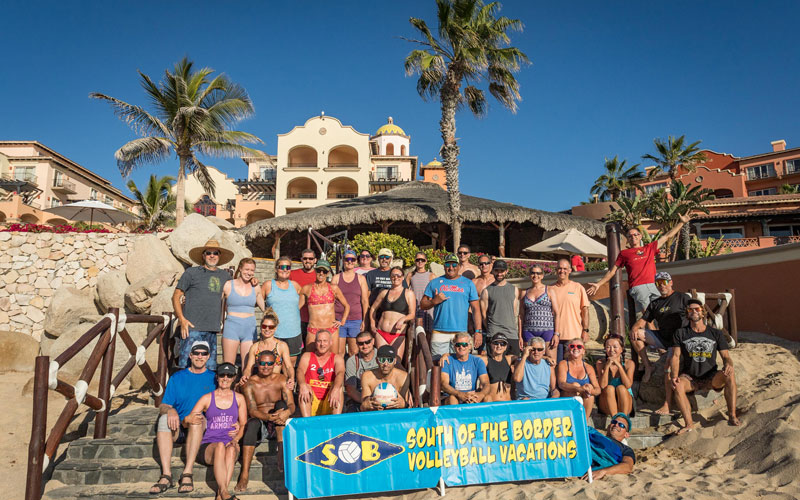 In 2014 we added our third destination, Cabo San Lucas.  We started out at the Barcelo El Faro, with 16+ nets until Hurricane Odile arrived with a direct hit limiting us to 8 courts.  We then located down the beach to the Holiday Inn where we could fit 30+ court, but the property was not a good fit.  We were ready to call it quits but stumbled on the Hacienda Del Mar, and absolutely amazing property with 8 great courts.   But European plan was not a good fit.  So, in 2024, we returned back to the scene of the crime, the Barcelo.  We can only fit 8 courts limiting us to 64 player, but they are all-inclusive plan so we are well fed, and the location in San Jose del Cabo is hart so beat.  We are HAPPY to be back.  
SOB Cabo Links
San Jose Links
San Lucas Links