Week 1: November 11-18, 2023 (Sat-Sat)
Week 2: November 25-December 2, 2023 (Sat-Sat)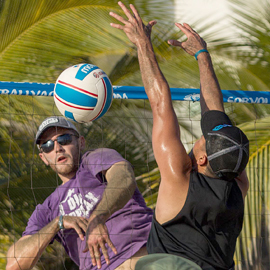 Opening Day:  Registration for our Puerto Vallarta Volleyball Vacations opens annually at  Noon, MST on the 2nd Tuesday in May.  
The Group:  Puerto Vallarta trips are currently capped at 48 players per gender for a total of 96.  Trips usually top out about 110 guest including non-playing family and friends, pros, and staff.  
The Hotel:  When in Puerto Vallarta, SOB stays at the 5-star Vallarta Hard Rock.  Our first group visited this property in 2009, and it doesn't get much better.  The property boasts 6 restaurants,  a gourmet coffee/pastry shop, and 24 hour a day room service.  There is a spa and salon on the property if you want to pamper yourself.  Rooms are spacious and modern, and the service is impeccable.  
The Beach:  We picked the Hard Rock because of the beach.  Most of the beaches in the bay of Banderas are too small to accomodate multiple nets, they are not level, or they are rocky.  The Hard Rock has enough room for 12 SOB nets on flat, deep sand. 
Returning Players Priority: Spots will be filled, first come, first served.  38 of the 48 available spots per gender will be reserved for returning PV guests, with the other 10 reserved for new guests.  Returning Guests get priority until 3rd Tuesday in May after which remaining spots will be filled with new guests. 
New Players: 10 of the 48 available spots per gender will be reserved for New Guests.   New guests should sign up so they are on the waitlist if they fail to grab one of the new guest spots.  No obligation until after you are confirmed.
The Pros:  SOB Volleyball Vacations has worked with over 70 different Professional Beach Athletes since 1994.  You can check out this list on our pros page.  We want our guests to join each trip because SOB Volleyball Vacations are great week, and the Pros are just the icing on the cake. So we do not announce our pros until the week prior to each trip. 
2023 (last years') Puerto Vallarta Pros:  Jake Gibb, Billy Allen, Ty Tramblie, Troy Field, Chaim Schalk, Janelle Allen, Angie Akers, Evan Cory, Logan Weber, Andy Benesh, Savvy Simo, Toni Rodriguez, and Ian Satterfield.